TARRAS COMMUNITY GROUPS
TARRAS COMMUNITY CHURCH

27 Church Lane off Jolly Rd or Munroes Lane.
Services 11.00am 1st Sunday of the month.
The trustees of the Tarras Community Church Charitable Trust are pleased to report that the upgrade of the Tarras church is nearly complete. We are very proud of the result and hope that you have had a chance to visit the restored church in all her glory. Without the strengthening work having been completed the church would have continued to subside and soon would have been past the point of retrieval. The future of the church is now bright, just in time for the centenary celebrations later this year.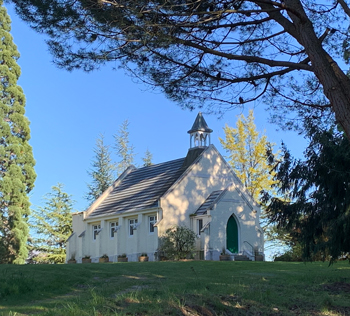 The Tarras Community Church is located in the Tarras Village, less than 30minutes drive from both Wanaka & Cromwell, situated along a country lane, set on a knoll,
and surrounded by splendid evergreen trees.

Built in 1921 from community donations, the inter-denominational church has been an important part of the Tarras community for the past 100 years and is a facility the community is proud of.

In 2019, following community fundraising, grants and a generous donation, the church was transferred into the ownership of the Tarras Community Church Charitable Trust with the aim to preserve it as a church and also make it a community facility.

VENUE & EVENT SPACE HIRE
Inquiries are welcomed for the use of the church as a wedding venue and event space.
Create your event – bring your celebrant, exhibit your artistry, hold your concert.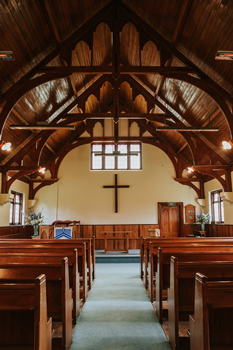 If you are interested in booking your event at the church please inquire to:
The Tarras Community Church Charitable Trust
Contact: Trudi Pryde
Mobile: 027 543 1011
Email: trudipryde@xtra.co.nz


RURAL WOMEN
Rural Women New Zealand serves women of all ages who share an interest in rural life. We offer support and friendship for women with an interest in the land and rural issues.
Rural Women New Zealand is a leading voice for rural women and makes submissions on a wide range of topics affecting the rural sector.
Rural Women were the 2011 Regional Runner Up in the Heritage and Environment section of the Trust Power Community Awards for their outstanding contribution to the Central Otago Community. This was for the Guide to Tarras, Taste of Tarras tour and various other projects that the Rural Women have been involved with in the community.
Contact: Tarras Rural Women
tarrasruralwomen@gmail.com


Tarras School is a small rural school that ensures
students develop a sense of belonging, form strong relationships, receive a diverse education and are adaptable and prepared for the transition to further education with the support of the wider community.
Find out about our current learning by visiting our website, following us on Facebook or Instagram.

The children have written two books about
"Shrek" the famous hermit sheep found on Bendigo Station.
Books can be purchased through the school.
or by email: shrek@tarras.school.nz
Contact: Main Road, Tarras, Central Otago.
03 445 2817
office@tarras.school.nz
https://sites.google.com/view/tarrasschool


TARRAS GOLF CLUB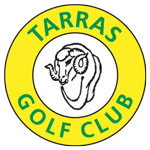 On the main road north of Tarras village.
A unique, 9 hole course that offers unusual challanges. This nine hole country course traverses three farms and is set in spectacular landscape. The club has an active membership of 140, with about 1,000 casual green fees a year.
Tarras green fees $20.

Contact:
The Secretary (Elsie)
24 Thornicroft Road, R.D. 2, Outram 9074
021 029 11103
Website: tarrasgolf.org.nz
BOOK CLUB
Meets on the second Wednesday of the month.
Stimulating and provocative discussions on literature, authors and writing.
New members welcome.
Contact: 03 445 2770


PLAYGROUP
Playgroup meet on Wednesday morning from 9.00am to 12.00pm during school term time.
We are closed during school holidays.
Contact: Stacey 03 445 2007


TARRAS COLLIE DOG CLUB
The first trials were held on May 5th 1922 but the Club itself was not founded until March 1923.
Centennial Trials were held on 23 & 24 March 2023.
Trials are run in autumn each year at Lindis Downs on Philips Road, Tarras.
facebook - Tarras CD Club


TARRAS COMMUNITY HALL BOOKINGS
tarrashall@gmail.com

TARRAS TRADERS
New Facebook group for locals to buy, sell or trade. Search for Tarras Traders.